Merit Aid
At W&J, we believe in recognizing and rewarding students' excellence in academic achievements by offering merit-based scholarships. The Office of Admission takes a holistic approach when evaluating a student for a merit award. Academic performance, curriculum, class rank (if available), standardized test scores (unless the student elects our score optional policy), and co-curricular involvement are all considered. W&J offers four tiers of merit awards: the W&J Thrive Scholarship, the Howard J. Burnett Presidential Scholarship, the W&J Scholars Award, and the Dean's Award.
Annual scholarship amounts are divided equally over the fall and spring semesters and can be used to lower the overall college costs. W&J's merit awards are available for eight semesters provided the recipient maintains full-time enrollment status, remains in a degree-seeking program, abides by the regulations governing college life, makes Satisfactory Academic Progress (SAP), and meets GPA requirements for his/her respective award. The GPA requirements are reviewed at the end of every spring term for the upcoming academic year.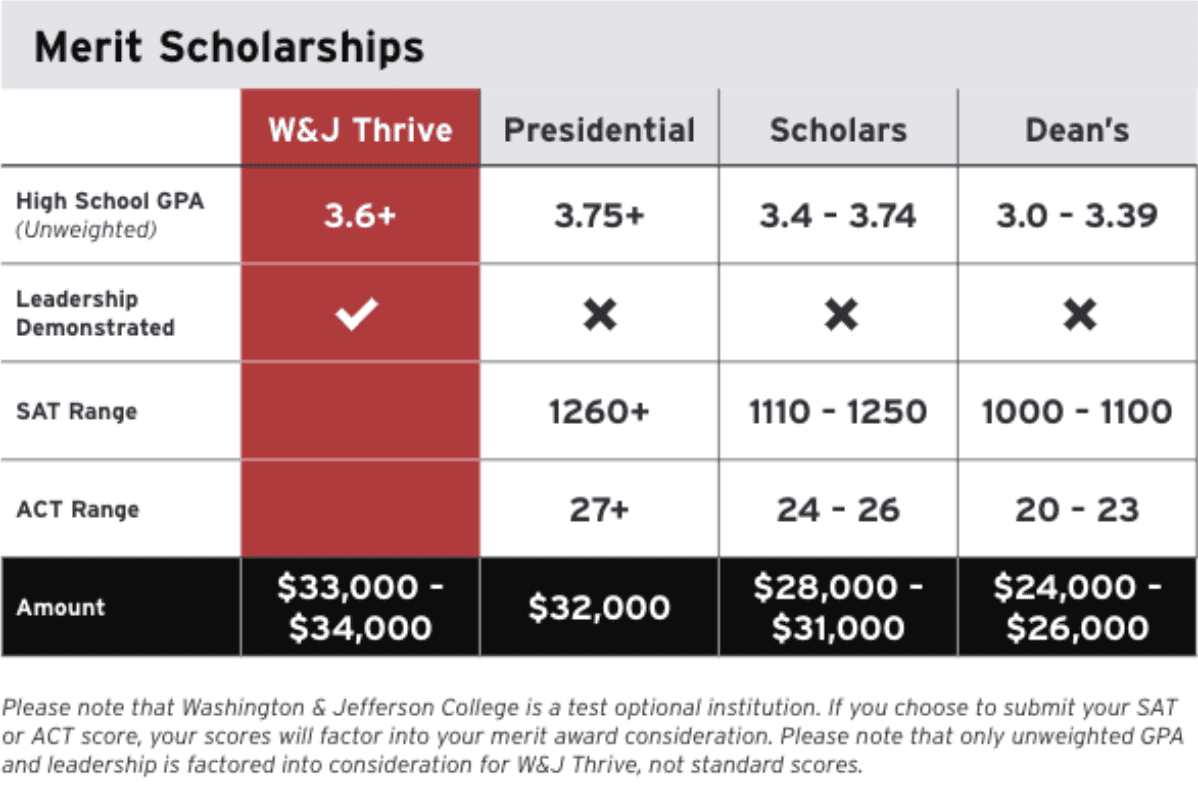 W&J Thrive Scholarship
Washington & Jefferson College is the place where you'll thrive! Our W&J Thrive Scholarship is all about rewarding you for your accomplishments before coming to W&J and the outstanding work we know you'll continue to do as a student in-and-out of the classroom. Starting at $33,000/year, W&J Thrive is our highest merit scholarship and is awarded to students committed to being academic leaders.
Are you an academic leader at your high school inducted into the National Honor Society? Are you a team captain? Club president? Did you help in your community or tutor other students? An entrepreneur? An agent of change? We want to know how you lead today and how you will lead tomorrow! To qualify for W&J Thrive, your high school unweighted GPA must be a 3.6 or higher, and the most important component is sharing your leadership positions, characteristics, and/or interests in your application for admission.
Please be mindful as you are submitting your application to include all of the pertinent information about yourself.
You may describe your leadership characteristics, positions, or capacity in one of three ways:
in the activities section of the application
an optional personal statement
an optional recommendation letter
The W&J Thrive Scholarship is renewable for up to 8 semesters provided you maintain a minimum 3.1 GPA and stay in good academic standing with the College.
We want to hear how you'll lead at the place to thrive. Complete your application at www.washjeff.dev/apply and in three weeks, if eligible, you'll receive your merit scholarship decision.
Additional Scholarship Opportunities
The Alumni Referral Award - The Alumni Referral Award offers alumni of the College the opportunity to refer prospective students to W&J. Referred students, once they have been accepted to the College, will receive the $1,000 award as part of their financial aid package. The $1,000 award (split between two semesters) is renewable for each year they remain a student at W&J, up to four years. A student can only be granted one Alumni Referral Award. Please note that nominations are only accepted for students who have not previously applied to W&J per our eligibility requirements. If you are not sure if the student has already applied, please contact Robert Adkins, Dean of Admission, at radkins@washjeff.edu or 724-223-6025 for verification prior to submitting your nomination. Referrals may be made for first-time, undergraduate freshmen in their junior or senior year of high school; or a transfer student, either domestic or international. The referred student must maintain full-time enrollment status, remain in a degree-seeking program, abide by the regulations governing college life, and make Satisfactory Academic Progress in order to renew their scholarship for each year they are a student at W&J. W&J employees in Enrollment and Athletics departments, who are also graduates of the College, are not eligible to submit a referral. Alumni must complete the Alumni Referral Nomination Form.
William Hertzler Memorial Scholarship

- This renewable scholarship is offered to selected students from Juniata County and is funded from the generous donation given to W&J by the Hertzler family. The annual amount of this award is determined by the income generated from the scholarship fund and over the past four years has covered more than 90% of W&J's annual tuition costs! New students enrolling in the fall that wish to be considered for the William Hertzler Memorial Scholarship need to apply and have an offer of admission to W&J as an incoming freshman by March 1. Students should also file the Free Application for Federal Student Aid (FAFSA) by W&J's priority date of February 15. Awards will be offered based on a review of both academic achievement and financial needs. Please note that a William Hertzler Memorial Scholarship replaces any W&J award the student may have previously received. This award is renewable each year as long as recipients remain in good academic standing as defined by the College. It is important for Hertzler scholarship recipients to know about an opportunity for additional scholarship monies through a similar fund established by the Hertzler family for graduate students at the University of Pennsylvania. Those interested should contact the University of Pennsylvania directly for more details regarding scholarship availability.
Pennsylvania Chafee Education and Training Grant Program

- This federally funded program offers grants to Pennsylvania undergraduate students aging out of foster care who are attending an eligible postsecondary institution. PHEAA administers the Pennsylvania Chafee Education and Training Grant (Chafee) Program on behalf of the Pennsylvania Department of Public Welfare as authorized under the Foster Care Independence Act of 1999 and amended by the Promoting Safe and Stable Families Amendments of 2001. For more information, visit pheaa.org.
The Pittsburgh Promise Scholarship

- Students who graduate from a Pittsburgh Public School or one of its charter high schools are eligible for this scholarship. This is not a need-based scholarship. Students must file a FAFSA each year while in college, maintain a 2.0 GPA, and attend full-time. Visit for more details and criteria.
RaiseMe: W&J has partnered with RaiseMe to offer micro-scholarships that recognize your achievements as you progress through high school, allowing you to start earning money for college before you even apply. You can earn up to $8,000 per year, and the amount you earn on RaiseMe from W&J will be your guaranteed minimum amount of institutional aid - you may receive even more in your scholarship or financial aid package once we review your completed application for admission. Please note, the senior earning deadline on RaiseMe is September 1. So if you are a senior, be sure to complete your RaiseMe profile by that date to lock in your earnings from W&J. Register for free at raise.me/join/washington-and-jefferson.
We encourage students to apply for External Scholarships & Awards and to utilize our external scholarships and awards page, as well as our Financial Aid Resources, as helpful tools. The Office of Financial Aid should be notified of any awards obtained.