At W&J, we are committed to student success. Toward that end, we will work with you in personalized, one-on-one advising sessions and in challenging, small classes to help you discover your talents, nurture them, and excel. We know that on-time graduation is essential— it makes your education affordable and provides important career momentum.
The W&J On-Time Graduation Guarantee promises that all students who meet the College's academic expectations will be able to graduate in four years. We are confident enough to make this guarantee because we have such a strong record, recognized nationally by The Princeton Review and Forbes Magazine, for the success of our students and our graduates.
This sterling record is evidence of how the combination of motivated, focused students and a dedicated faculty and staff can create success.
In the four years you are at W&J, you will also be able to take advantage of the outstanding research and internship opportunities that the College provides, including access to The Magellan Project, nationally recognized as the most innovative study abroad program in the country. We have a database of more than 400 internships in all fields from medicine to financial analysis to the music industry.
From your first day on campus, you will understand how W&J can deliver on our promise. You will receive personalized attention from our Admission Office, then from your academic advisor, and finally in our small classes (11:1 student-to-faculty ratio). Outside of the classroom, our residence halls provide the opportunities for the excitement of living-learning experiences (where students sharing a class live in the same hall) as well as the joy of providing community service through many organizations like Big Brother/Big Sisters, the Literacy Council, and the Humane Society. You will find that your calendar is full!
The Guarantee
We guarantee that all students who meet our academic expectations will graduate in four years. In the event that a student who has met these requirements is not able to graduate in four years, the College will provide up to one year of tuition at W&J free of charge.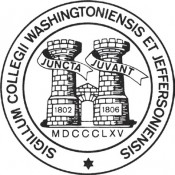 The On-Time Graduation Guarantee
Just one more way that W&J demonstrates its exceptional value.